QR codes are virtually everywhere because they are a valuable way to share information. Since most people have a smartphone in their pocket, they can easily access this information and take it with them, making QR codes an extremely valuable marketing tool for your business.
First, What Are QR Codes?
A quick response or QR code is similar to a barcode, but it can hold a lot more information. QR codes can store more than 7,000 characters and can be read more than ten times faster than a standard barcode. QR codes aren't new. They were added to the ISO standard in 2000 and have been readable by smartphone apps and cameras ever since.
How Can a QR Code Be Beneficial to Your Business?
With QR codes you can easily share information with current or potential customers and stay engaged with the audience you want to reach. These codes are very versatile and there are a variety of ways to include them in your marketing strategy.
QR codes can be bundled with current marketing materials and aligned with any existing direct mail or mobile marketing campaigns. QR codes are also a great way to track the success of your campaign. Your company can see how users are interacting with your site and get a sense of the effectiveness of your advertising tactics.
9 Ways to Use QR Code Marketing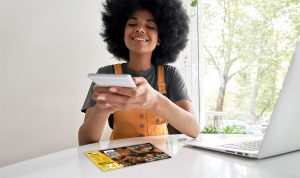 Share contact information through virtual business cards.

Offer a contactless option for customers to view a menu or list of services in a store.

Allow customers to pay by linking them to a point-of-sale technology.

Offer warranty registration, discounts, coupons, and deals.

Send directions using Google Maps or Waze.

Invite customers to an event by adding it to their calendar.

Connect to a business' Wi-Fi.

Follow a profile on social media.

Direct users to an App Store to download an app.
QR codes are a highly effective marketing tool. Whether they are on a business card, offer a list of services or alert customers of promotions, QR codes work exceptionally well at getting your important message out. DRMG is here to help you discover how QR code marketing could be valuable to your business. Contact your local DRMG rep today to learn more about including a QR code in your next marketing campaign.