1. Shared media products to the mailbox
Flyer mailing is an effective way to get your business noticed. When you advertise by shared media products, it is a much less crowded environment and a lot more personal. Flyer mailing is an effective way to put information directly into the hands of your targeted audience. According to recent statistics from Canada Post, 95% of people read their mail in the same day that it is received. Reading mail is still very much a part of the daily routine for Canadians.
2. Write a "catchy" headline
Make it intriguing and memorable. Use words like, "Save on", "Now you can", "Free", or "Bonus offer".
3. Embrace colour
Flyers printed in colour are more noticeable. Embrace the use of bold colours, however, choose a colour scheme to work with to ensure your flyer remains tasteful as opposed to tacky. Use a striking, high-quality photo. One large image is more effective than the use of multiple small images.
4. Offer a limited time discount of promotion
Who doesn't love a great deal? Customers are understandably drawn to sales, discounts, and promotions. Use a portion of the flyer as a cutout coupon or the entire flyer can act as a coupon card. This technique is intended to drive more sales and keep your flyer out of the trash! Be sure to include any terms or stipulations for the use of the discount or promotion in the fine print of the flyer.
5. Keep it simple
Offer relevant information that is short and concise. For example, provide a striking statement on how your product or service could benefit a consumer or highlight any discounts and promotions. Instead of writing descriptive paragraphs, use bullet points.
6. Proofread
Your flyer should not contain any spelling or grammatical errors!
7. Target existing customers
According to recent statistics from Canada Post, 94% of Canadians are likely to open an item that comes in the mail if they already do business with the company. Focus your flyer mailing first to your existing customers and then consider other potential customers of a similar demographic.
8. Be friendly
Never underestimate the power of a friendly human smile. If relevant, use a photo with a person who is smiling and pleasant, without looking too corny.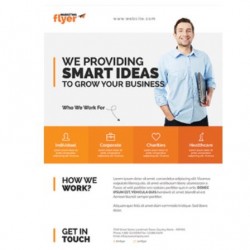 9. Include a call to action
Encourage your audience to take action when reading your flyer. Tell you the reader to "call now" or "log on". For example, "Call now to schedule your free in-home estimate."
10. Get seasonal
If you're distributing flyers during a particular season or event, put the focus on the writing associated with the event. Use capitalization or colour to highlight the season or event. Your audience will immediately be more drawn to the content on your flyer because it is familiar to them.
If you're ready to take the next step into getting your business noticed and are looking for a company to help you with flyer mailing, get in touch with us! Direct Response Media Group (DRMG) is Canada's largest and fastest growing shared media products marketing company specializing in the design, printing, and delivery of effective shared media products advertising. We help our clients to own the mailbox, generate new customers and increase sales. Contact us today to discover how you can reach a local or mass audience for only a penny per household.