If you are having trouble improving your coupon redemption rate, get ready to shift into a saving-savvy mindset. For any deal-hungry consumer, the thrill of saving money can be powerful. It can also be addicting, too. Recent studies have confirmed that coupons still heavily influence consumer purchase decisions.
For those of you that are surprised by this fact, the reality is this: people will never, ever get tired of saving money, and brands are always looking to attract new customers. As a business owner, the benefits of attracting deal-hungry consumers through coupons can be endless. Coupons offer the opportunity to attract new customers and to keep current customers coming back. Below we dive into everything you need to know about coupon redemption rate, how to calculate it and our top 3 tips to increase it.
What does Coupon Redemption Rate mean and How to Calculate it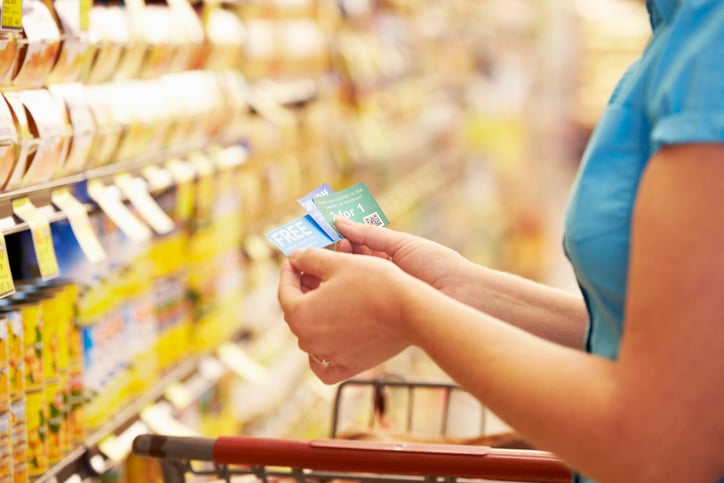 Coupon redemption rate is the percentage showing how many customers received your coupon and redeemed the offer. To calculate your coupon redemption follow this easy formula below:

3 Ways to Increase Coupon Redemption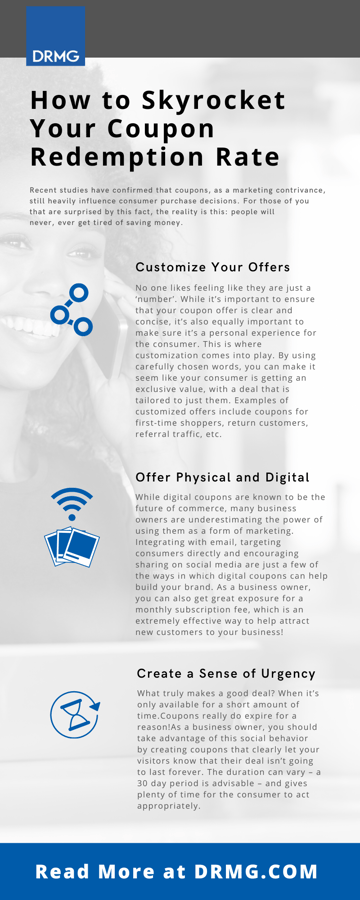 Here are our top 3 tips for improving your coupon redemption rate:
1. Customize Your Coupons.
No one likes feeling like they are just a 'number'. While it's important that your coupon is easy to understand, it's equally important it's a personal experience for the consumer. This is where customization comes into play. By choosing words carefully, consumers can perceive exclusive value, that the coupon is just for them. While this sounds time-consuming – it really isn't the case at all; you can easily create customized coupons for each type of visitor by using analytics and statistics based on their past visits, referrals, consumer preferences, demographic or geographical location. Examples of customized offers include coupons for first-time shoppers, return customers, referral traffic, etc.
2. Offer Print and Digital Coupons.
These days, consumers are smart at saving money – so smart that they are now utilizing multiple channels to source coupons. Aside from offering traditional print coupons, either in-store, inside packaging, or direct mail – also offer your coupons digitally. Digital coupons are thought to be the future of commerce, many business owners are underestimating the power of using them as a form of marketing. Integrating with email, targeting consumers directly and social sharing are just a few of the ways digital coupons help. To stay organized, consider utilizing a site that lets you publish and host all your digital coupons (check out our tool for Digital Coupons). A resource like Money Saver can serve as the home base for all of your digital coupons, which is an extremely effective way to help attract new customers and returning customers find your business.
3. Create a Sense of Urgency.
What truly makes a good deal? When it's only available for a short amount of time. Coupons really do expire for a reason! As a business owner, you should take advantage of this consumer behaviour by creating coupons that clearly let your visitors know that their deal isn't going to last forever. The duration can vary, a 30 day period is standard, and gives plenty of time for the consumer to act. Last but not least, to help drive immediate conversion and a sense of urgency, don't forget about including a call to action. Use compelling phrases such as: "Redeem now," "Don't Miss this…" and "Shop today." All of these phrases will entice a customer to not let your great deal pass them by.
Contact Direct Response Media Group, to answer any questions you have about coupons. Your representative can provide an in-depth breakdown of coupon performance in your industry and service area.